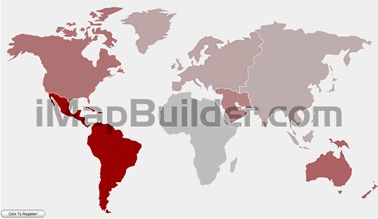 The popularity of ready-made map templates is on the rise in recent years. By typing the keywords such as world map, US map, Europe map, Asia map, UK map or any other cities maps over the world in Google, a list of websites offering those templates will be presented instantly for users to click on. One of the main advantages of using these pre-designed map templates is that they are professional grade maps, and it is very easy for users to use the cartography in these map templates with their own additional information to generate wonderfully looking maps. These will help you effectively convey scientific analysis and research, and visualize data that applies to geographical regions on a map, which can grab the attention of your target audiences.
The map templates contain a set of predefined clickable regions, which allows non technical users to easily add hyperlink to the region. For example, one can add a hyperlink to the state of California in the United States map, directing users to the single California map showing other information you are going to present on a mouse click.
---
More Website Building Software

Software for website building, create flash photo gallery, music player, videos, calendar, interactive maps, and more...

---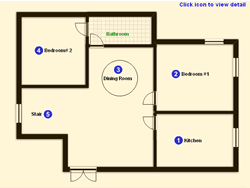 The predefined map templates are extremely useful for creating store locator maps to show company's sales territories, store locations and branch offices across the region, with contact information and address appear when users mouse over the placemarks for each location.

Such kind of wonderful map templates are beneficial to travel and tourism industry too. The interactive map can associate geographical locations to actual images and text descriptions of tour destinations, giving web viewers a real sense of place and making their web experience much more pleasant. It gives you a large advantage over your counterparts who do not do the same.

What about interactive floor plan maps, mind maps and organizational chart which can't be found easily in geographical map templates? You need to draw them all by yourself but it would be a technically challenging task for most people if they are not familiar with script writing and programming language. However, with the advent of web technology, some map building programs now feature a 'Custom map' function which enables users to import their own map images for multi purposes. A prime example is that real estate company can insert a static floor plan image to the map program for a virtual tour, with some custom polygonal custom regions on top of the existing map image to highlight the property features that you want to emphasize. Combining the floor plan with pop up images and text on a mouse over across the custom polygonal regions, potential customers are given a sense of place and spatial perspective. They know how the apartment looks like as if they are sitting in the middle of it, making the property standing out and attracting more buyers.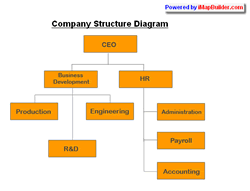 Almost every company needs an organizational chart to display the hierarchical structure of an organization and the relationship among the staff members in different positions. Enterprises can draw various shapes such as rectangles, circles, or any other polygons easily to indicate different positions, and again make use of pop up infobox to display the staff photo, name, email address and phone number when viewers move the mouse over the polygons. Apart from drawing polygonal areas, the map building program also provides a line button for you to add straight line connecting subordinates to the box at the level above it.

The map development tools make map building process convenient and simple for everyone. Feel free to download the trial version to try the features before you make a purchase.
© Copyright 2009 WebUnion Media Ltd.